From Gainesville Sun 2/5
Posted at 2:08 PMUpdated at 6:48 PM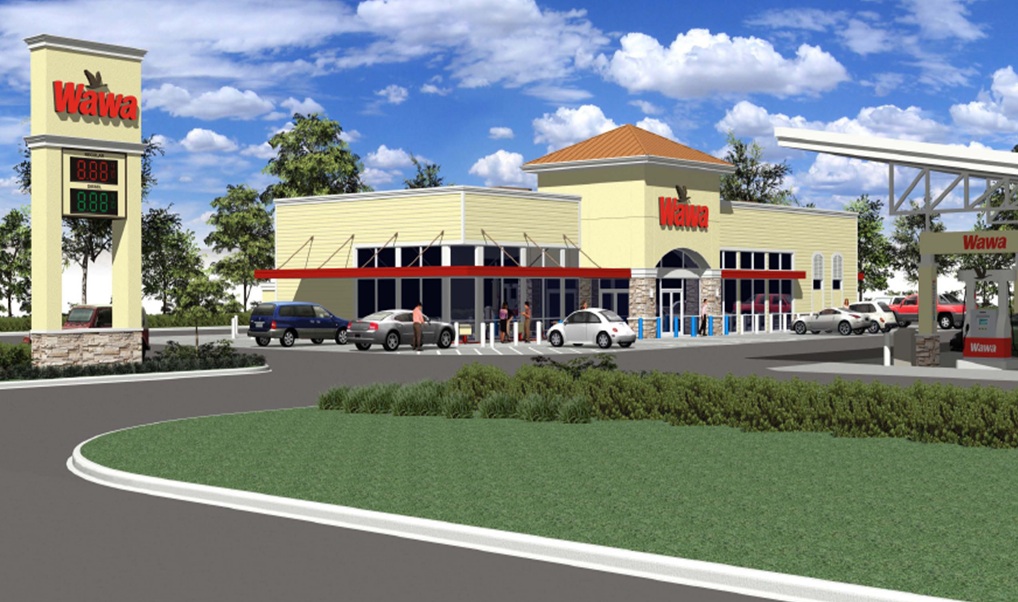 Wawa, a convenience store with its own loyal fan base, has plans to come to East Gainesville.

City planning documents show the oddly-named, high-end convenience store known for its hoagies and coffee, is proposed to be built at 1021 E. University Ave.

CHW plans to redevelop a 2-acre site across the street from McDonald's in East Gainesville for the store. The 5,500-square-foot store will have 12 fuel stations. An email sent by CHW Senior Project Manager Daniel Young to the planning department says the site previously was home to a liquor store (ABC Fine Wine and Spirits) and a gas station.

Planning documents show the project is in its first review cycle. City planner Forrest Eddleton told The Sun on Monday developers are working on redesigning plans but he didn't know what those plans would look like.

Calls and an email sent to developer CHW for a comment were not immediately returned.

Wawa, which has 750 convenience retail stores in Pennsylvania, New Jersey, Delaware, Maryland, Virginia and Central Florida combined, offers built-to-order hoagies, freshly brewed coffee, hot breakfast sandwiches, built-to-order specialty beverages, and an assortment of soups, sides and snacks.

One of Wawa's loyal customers, Madison Cydis, a 20-year-old biomedical engineering student at the University of Florida, missed Wawa so much when she moved to Gainesville, she started a petition to bring its hoagies to Hogtown.
"For those of you from the Northeast (or the few lucky cities in the state of Florida), you understand the goodness on this Earth that is Wawa," read the petition she started in the fall. "As college students at the University of Florida, we deserve to have a Wawa in Gainesville."

Cydis said she grew up in a small town in New Jersey called Sewell. The town is about 40 minutes away from Wawa's headquarters in Wawa, Pennsylvania, which is how it got its name.


In Sewell, Cydis said, there were four Wawas, and when she came to Florida, she was shocked that there were only a few in the state and none in Gainesville.

"Wawa is a convenience store at its finest," she said.

Her petition, titled "Bring Wawa to Gainesville," recieved 479 signatures and several comments from other Wawa lovers, desperate for a store in Gainesville.

One commenter wrote, "Wawa is a God-tier store," while another wrote "Everyone deserves a Wawa."

When the Sun broke the news Monday to Cydis, a Philadelphia Eagles fan, her excitement left her torn between two favorites.

"I don't know what I'm more more excited about," she joked. "(The Eagles' Super Bowl win) or the Wawa."